VW Taos VS The Competition

Volkswagen knows how to make an efficient and versatile compact SUV. Compact SUVs have quickly become a top pick for many American families, with many attractive features including a digital cockpit, sleek design, and impeccable performance. The Volkswagen Taos truly is one of the iconic compact SUVs on the market. Two other compact SUVs that compare are the Subaru Crosstreck and the Kia Seltos. These including the Taos, have rightfully earned their place in the automotive industry. Dive deeper into the details and continue reading to discover why the Volkswagen Taos is the right fit for you.
Volkswagen Taos vs. Subaru Crosstrek vs. Kia Seltos
| 2022 Volkswagen Taos | VS | 2022 Subaru Crosstrek | 2022 Kia Seltos |
| --- | --- | --- | --- |
| $23,495 | Starting MSRP | $23,145 | $22,590 |
| 28 / 36 | City/Hwy/Combined MPG | 28 / 33 | 29 / 35 |
| 3,175 to 3,430 lbs | Curb Weight | 3,117 lbs | 2,948 to 3,317 lbs |
| 158 HP | Base Trim Engine Power | 152 HP | 146 HP |
| 4 Years / 50,000 Miles | Warranty Coverage | 3 yr/36,000 mi basic |  5 yr/60,000 mi basic |
| 65.9 | Maximum Cargo | 55.3 | 62.8 |
How Does the VW Taos Stack Up Against the Subaru Crosstrek and Kia Seltos? VW Wins by a Mile!
The 2022 VW Taos outshines both the Subaru Crosstrek and Kia Seltos in every way that matters to Compact SUV enthusiasts. With superior horsepower and torque, the Volkswagen Taos has a sportier, more stable feel than either the Crosstrek or Seltos. Coming in at an eye-opening 158 Horsepower compared to the weaker output of the Seltos and Crosstrek, you'll have plenty of power to spare. With a higher-end gas range for both city and highway driving, the VW Taos gives you better fuel economy and a longer drive per tank of gas. The Taos has 99.5 cubic feet of passenger room and up to 66 cubic feet of cargo space, which means greater combined cargo and people capacity than either the Crosstrek or Seltos. A Compact SUV with that much space gives you and your passengers more cargo-carrying flexibility and breathing room for passengers. Neither the Crosstrek or Seltos step up to bring a turbocharged engine to the mix the way the Taos does, nor can they match the same level of advanced high technology that comes standard with the 2022 Volkswagen Toas. When power, performance, fuel economy, safety, and warranty are all factored in, we're sure you'll agree that VW's sleek design, technology, and sporty performance set the VW Toas a level above the rest.
Without a doubt, the Volkswagen Taos lives up to its dazzling reputation for many reasons. With a budget-friendly starting price of $23,495, the Taos comes equipped for the adventure. The MPG surpasses the competition, rising above and making sure that all drivers are not only satisfied with the longevity of their fuel but are also spending more time enjoying the road. The Taos has more horsepower and torque than those compared, which makes for seamless handling and driver control. To top some of these key features off, Volkswagen offers an impressive base warranty of 4 years to ensure that buyers feel secure and protected for years to come.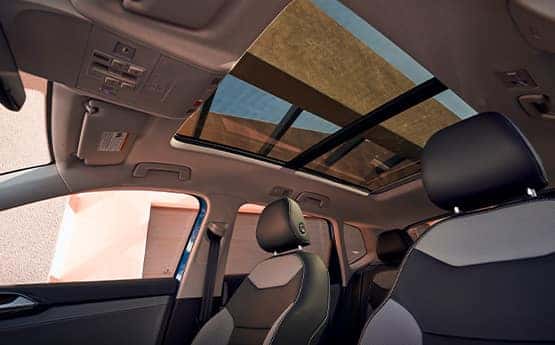 Volkswagen Taos Design & Technology
The Volkswagen Taos features a stunning design, truly both sleek and luxurious. The illuminated grille and led headlights show the incredible attention to detail Volkswagen used when designing this model. The 17" alloy wheels demand that drivers make an appearance on the road, turning heads one by one. Inside, drivers will find gray and black seats paired with a titan black carpet and dashboard. Further, the Volkswagen Taos S trim includes a VW digital cockpit with high resolution, allowing for drivers to customize their dashboard from speed, travel time, guidance, and much more.
For those who like a little something extra techy, the wireless charging feature, as well as remote start, are available for upgrade. These fan-favorite upgrades live up to the praise they get from current Taos owners. Aiming to have unwavering comfort and safety in mind, Volkswagen also offers IQ drive and driver assistance, high-tech, well-respected systems that provide drivers with security, 24/7.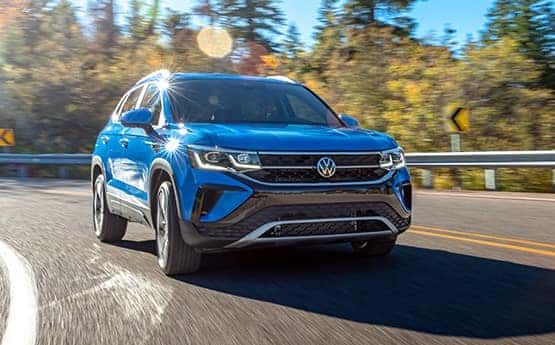 Warranty
Worried about your warranty? We've got you covered. Volkswagen's warranty outshines our competitors coming in at 4 years and 50,000 miles. Be at ease driving your new Taos, having your back is sort of our thing here at Ontario VW.