VW Jetta VS The Competition

Welcome to greater power! Without a doubt, the Volkswagen Jetta has earned a stellar reputation through years of incredible performance and superior handling. The body of this vehicle has certainly evolved throughout the past decade, allowing for a sleek and smooth appearance. The 2022 Jetta offers style and enhanced performance, with even more zip in the pedal than the 2021 model, making it one of the world's most loved sedans.
Sedans will always remain a staple vehicle, from the ability to host multiple passengers, to allow for a thrilling driving experience. Although drivers won't find themselves off-roading in the Volkswagen Jetta, they will be at ease cutting through highway wind. The Jetta stands out from the crowd with its warranty at 4 year and 50,000 miles, turbocharged 4-cylinder engine, and state-of-the-fun driving intelligence.
Volkswagen Jetta vs. Toyota Corolla vs. Honda Civic
| 2022 Volkswagen Jetta S | VS | 2022 Toyota Corolla | 2022 Honda Civic |
| --- | --- | --- | --- |
| $20,365 | Starting MSRP | $20,625 | $22,350 |
| 29 / 43 / 34 | City/Hwy/Combined MPG | 30 / 38 / 33 | 30 / 38 / 33 |
| 184 @ 1,750 RPM | Torque | 126 @ 3,900 RPM | 177 @ 1,700 RPM |
| 8-Speed Automatic | Transmission | CVT | CVT |
| Tiptronic | Sequential Shift Control | N/A | N/A |
| Aluminum | Wheel Material | Steel with Wheel Covers | Steel with Wheel Covers |
| 4 Years / 50,000 Miles | Warranty Coverage | 3 Years / 36,000 Miles | 3 Years / 36,000 Miles |
Outperforming the rest, the Volkswagen Jetta is superior in terms of performance. With 184 lb-feet of torque, drivers are met with agile handling and supreme power. The Volkswagen Jetta is crafted with an 8-speed automatic transmission with Tiptronic shift control, empowering all who get behind the wheel. On the flip side, the Corolla and Civic, are made with standard CTV automatic transmissions.
In terms of price tag, the Volkswagen Jetta never fails when it comes to being budget-friendly for those looking for excitement without having to break the bank. Starting at $20,365, the Jetta offers more for less, in comparison to the competition. The Jetta comes equipped with aluminum wheels and LED headlight/tail lights, making sure every entrance and exit, is a grand one.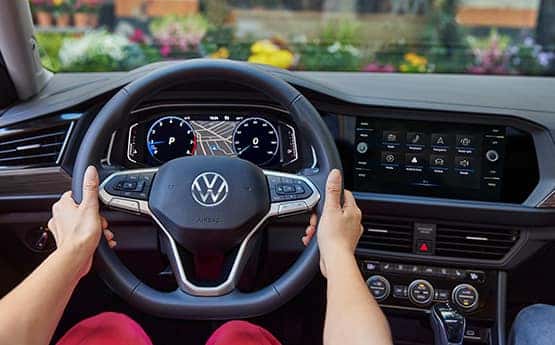 Volkswagen Jetta Design & Technology
Volkswagen's design is stylish and desirable. The interior of the Jetta has a VW 10-inch digital cockpit and app-connect, allowing desirable tech even on the base model. With accent stitching and premium cloth the interior also offers a much more luxurious feel than other vehicles in its class. If you are looking for a more loaded, high-tech model, VW offers quality sound systems, leather seating, panoramic sunroofs, and much more.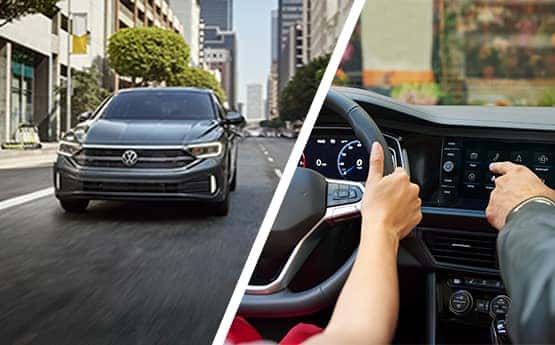 Volkswagen Jetta Performance & Safety
Safety will always remain a priority for Volkswagen. The 2022 Jetta offers some of the best safety features. If you choose to upgrade, your Jetta will include the IQ.Drive system as an extra safety feature.
Warranty
Worried about your warranty? Don't worry, we've got your covered. Volkswagen's warranty outshines our competitors coming in at 4 years and 50,000 miles. Be at ease driving your new Jetta, having your back is sort of our thing here at Covina VW.