VW Atlas VS The Competition
The Volkswagen Atlas is the 7-passenger SUV that has quickly found its way to the top of the high demand vehicle list. With impeccable performance, innovative technology, luxurious design, and advanced safety features, drivers are rest assured this SUV lives up to its noble reputation. With 96.8 cu ft of cargo space and IQ.Drive, Volkswagen crafted the Atlas with the intention of making every ride a comfortable, secure adventure for family and friends.
With the popularity of large SUV's drastically increasing, competitors in the automotive industry, like, Honda and KIA, are known to be some of the best family vehicles. While these automotive dealers remain leaders in the industry, the Volkswagen Atlas similarly compares and offers several advantages. Dive into this competitive comparison and discover why this SUV may be right for you.
Volkswagen Atlas vs. The Competition
| | | | |
| --- | --- | --- | --- |
| 2022 Volkswagen Atlas SE | VS | 2022 Honda Pilot Sport | 2022 Kia Telluride S |
| $34,335 | Starting MSRP | $38,080 | $35,890 |
| 7 | Seating | 8 | 7 |
| 21 / 25 | Fuel Economy (city/highway) | 19 / 26 | 20 / 26 |
| AWD is an additional upgrade at $1,900 | AWD/4WD | Available for $2,000 | Available for $2,000 |
| 41.3 inches | Headroom (second row) | 40.1 inches | 39.5 inches |
| 33.7 inches | Legroom (third row) | 31.9 inches | 31.4 inches |
| 20.6 cubic feet | Cargo Space | 16.5 cubic feet | 21 cubic feet |
| 4 years / 50,000 miles | Warranty Coverage | 3 years / 36,000 miles | 5 years / 60,000 miles |
Demonstrated above, the Volkswagen Atlas outperforms its competitors in many crucial areas; fuel economy, headroom, and legroom, to name a few. With a starting price of $34,335, Volkswagen has made it nearly impossible for competitors to deliver performance, design, and technology with an affordable price tag. If you need an all-wheel-drive (AWD) on the Pilot or Telluride, you'll have to pay more the price versus getting it on the Atlas. While Telluride offers a 5-year warranty, Volkswagen offers much more in terms of service, help, coverage, and convenience.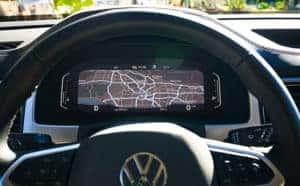 Volkswagen Atlas Technology
The Volkswagen Atlas aims to enhance the driving experience through several technology features, making it stand out from the competition. Many of the technology features include but are not limited to: keyless access, wireless charging, remote start, touchscreen navigation, a digital cockpit, Apple CarPlay, and Android auto. The cockpit of this vehicle allows for various customizable features and trims and demonstrates a seamless, intuitive user experience. Importantly, Volkswagen IQ.DRIVE enhances the safety of the vehicle and allows for a smooth, stress-free ride for all. IQ.DRIVE features Travel Assist, Adaptive Cruise Control, Active Blind Spot Monitor, Rear Traffic Alert, Front Assist, Emergency Assist, and Lane.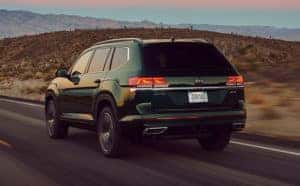 Volkswagen Atlas Performance & Safety
The Volkswagen Atlas is packed with power and really gets to show off once you get under the hood. Choose between an impressive 3.6L V6 engine with 276 hp and 266 lb-ft of torque or a 2.0L 4-cylinder engine with 235 hp and 258 lb-ft of torque. The 4-MOTION allows drivers to switch between four different all-wheel-drive modes, made for every driving situation. These include Snow Mode, On-Road Mode, Off-Road Mode, and Off-Road Custom Mode. With incredible performance, comes incredible safety. The Atlas is designed with a Rear View Camera System, Safety Cage, Intelligent Crash Response System, Automatic Post- Collision Breaking System, Tire Pressure Monitoring System, and Six stability-enhancing systems.